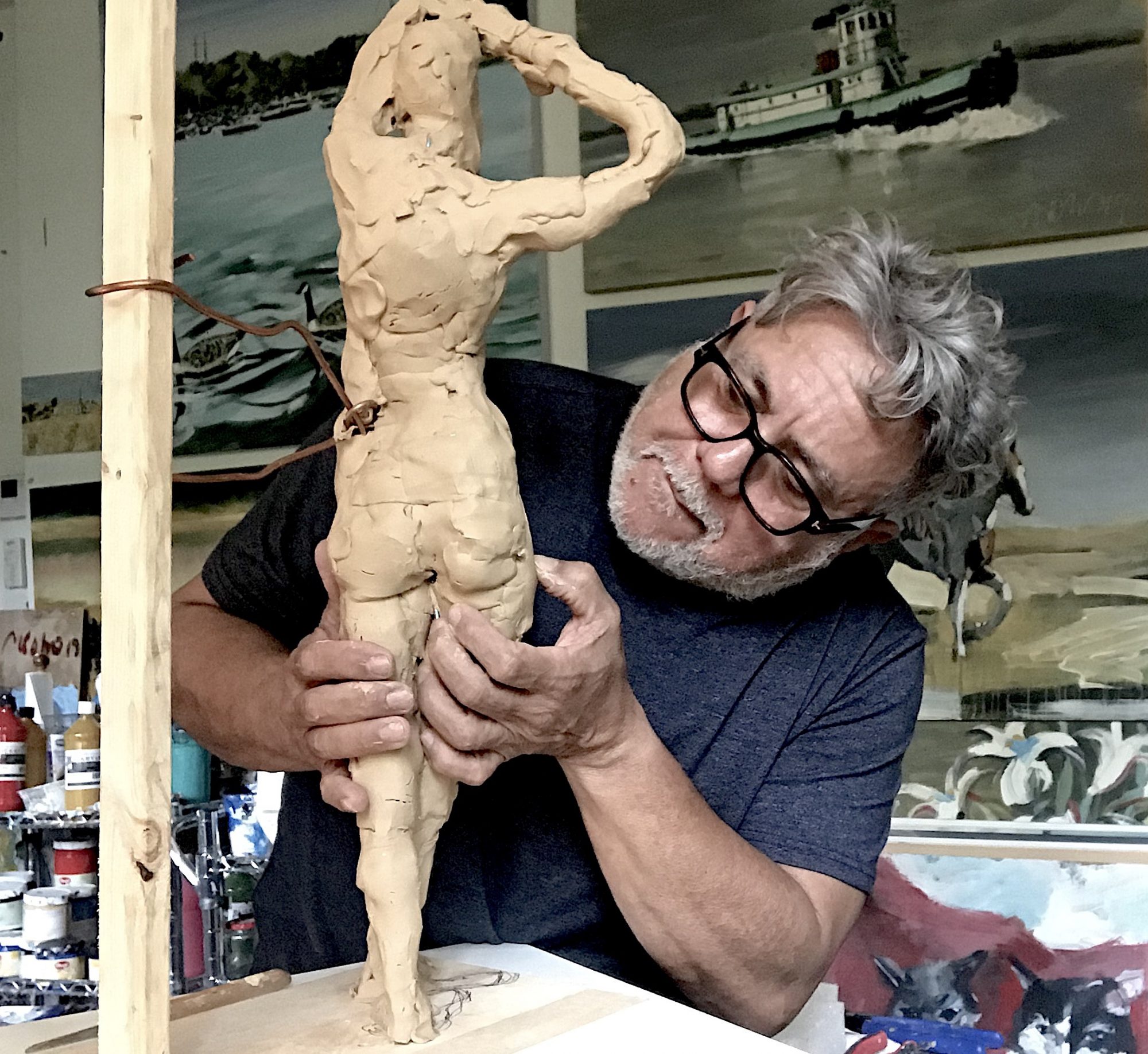 INSPIRED BY LIFE
by Ric Michel
In a recent exchange, Richard Merchán described his art as "storytelling." Be it epic or vignette, subtext or proclamation, each work brings a narrative to the fore.
To better understand these stories, it is best to know something of their author.
Merchán was born and raised in Maracaibo, Venezuela, a small town centered around a majestic lake rich with oil reserves. While Merchán suggests that he was "not yet an artist" and had "not yet begun to truly observe," the sense memories of his youth provided a foundation on which he would later draw. Both the beauty (broad horizons, lush palms) and the decay (oil fires on the lake, beaches soaked with spills) would inspire tensions to be reconciled throughout his career.
At age 14, Merchán and his family relocated to Miami, which would prove the gateway to the young artist's self-discovery. To this day, Merchán considers himself very much an American, steeped in the pop culture of his adopted land though viewed through an immigrant's lens. Flashing backward, Merchán recalls this "Coppertone" period in his life, seduced by the hedonism and sensuality of the South Florida lifestyle and the media that captured it all. The ad men and illustrators glamorizing this new world of Attainment were among Merchán's early influences.
Ripe with ideas, Merchán sought the tools with which to express himself. In 1976, he enrolled in the Minneapolis College of Art and Design. With a rigorous focus on life drawing and academic painting, Merchán developed the foundational skills essential to any young painter…but wanted more. He sought out classes in lithography, woodcut, silk-screening, and photography, as well as more "practical" curricula with an eye toward gainful employment. As a gesture to his father, a small town doctor unable to reconcile the notions of "Art" and "Career," Merchán undertook a double major in graphic design and commercial illustration.
Newly educated and eminently marketable, Merchán returned to Miami and began what would become a highly successful career in the worlds of publishing and design. Of far greater significance was Merchán's artistic development. Ever attuned to the world around him, Merchán immersed himself in the local color, with particular attention to two subjects that would remain lifelong fascinations — horses, more specifically the ponies and riders at the South Florida polo grounds, and bathers, swimming and lounging about the lush pools and beachscapes of the region.
Like many a young artist, Merchán's wanderlust and ambition soon brought him to New York City. "New York was my Paris," Merchán recounts, dazzled and inspired by the stimuli around him. From the polo grounds of Greenwich to the hot dog vendors of Washington Square, Merchán captured it all, exploring new media with abandon. The seeds of Merchán's mature figure studies can be found in these early works. A keen observer, Merchán learned to imbue these subjects with a point of view and subtext, producing character studies beyond mere portraits. With influences ranging from classical painting to modern cinema, Merchán's narrative style took root. Media and techniques were subordinate to the story, an approach Merchán favors to this day. "If detail is important to the "plot," he relates, "I get tighter. If the emotional aspect takes precedence, I dial to a looser and more gestural technique."
Restless for new experiences, Merchán moved yet again, this time to northern California, where he has remained (with the occasional detour) for the past three decades. Whether attributable to the locale or span of years, this California period has marked the most fertile, experimental and mature stage of the artist's career.
Sculpture, long an interest but never quite explored, became a new obsession, and Merchán plunged ahead with a technique well suited to his gestural style. Utilizing wire and plaster compounds, Merchán molded raw, ragged figures — both human and equine — eschewing grace for a more emotive form.
This quicker, unmannered approach soon surfaced in Merchán's paintings even as he abandoned abstraction itself. Reflecting on this period, Merchán offers: "Abstraction was, and still is, a visual language I didn't warm up to right away. It was like Bob Dylan, beer, and onions — a taste I acquired later in life."
Acquired and mastered, Merchán's flirtation with abstraction proved hugely influential upon his return to representational painting. His figures became more gestural, his landscapes broader. Even Merchán's equine works reflected this newfound freedom. Polo ponies and riders in detailed silks gave way to free-range mustangs unbridled and unmoored to the artist's prior conventions.
Today, the artist divides his time between California's Sonoma County and Greenwood, Minnesota, revisiting, reimagining, and reworking subjects he has come to know over a lifetime's work. Exploration remains the imperative, or as Merchán puts it: "navigating with only part of the map." Lakefront and boating scenes — traditionally studies in serenity — grow bold in Merchán's new work, taking on broad strokes and a Fauvist palette. Two thousand miles and 180 degrees away, Merchán embraces a more intimate approach. Amid the vineyards and coastlines of his country home, Merchán turns to plein air painting — "one-take" studies, the province of the truly assured.
"I can't ever recall being at a loss for ideas or inspiration," Merchán reflects of late. "A blank canvas is like arriving at a cocktail party filled with strangers. To start painting is like opening a bottle of wine. The conversation flows."
And the story begins.
About The Author
A former Wall Street lawyer, Ric Michel is the principal of Ric Michel Fine Art – Private Dealers and Art Consultants - with offices in TriBeCa and Midtown Manhattan.
Since being named one of the "New New York Dealers" by Esquire Magazine (Japan Edition) in 1990, Mr. Michel has worked with a host of public and private entities in the acquisition and sale of significant art works.